Tonight, the Academy of Motion Picture Arts and Sciences is holding its 87th annual Academy Awards (also known as the Oscars, if you prefer to call it that) to honor the best of film in the past year. This is one of those really big events that millions of people can look forward to each year, like the Super Bowl taking place weeks before the Oscars. For me, I'm not in a position where I am obligated to watch the Oscars each year, so I only tune in whenever there is at least a movie or two that I'm rooting for to win Best Picture or some other major honor. Otherwise, I'd be bored stiff watching those golden statues being handed out for films I never saw or even heard of. That's why I'm not watching the Oscars this year: I didn't see any of the films nominated for the top award categories.
Still, I do have some good memories of watching the Academy Awards or seeing great movies after learning about the awards they received. For example, I didn't understand at first the praise for Denzel Washington winning the Oscar for Best Actor in
Training Day
, but once I saw that movie and his performance as a corrupt cop who is practically a street thug himself, I nodded in agreement. More than a decade later, I applauded when the James Bond movie
Skyfall
won the Academy Award for Best Original Song, because it's the first time a Bond title song has gotten the Oscar (the on-stage performances of both Adele and Shirley Bassey during the ceremony were priceless). Then there are other Oscar award announcements that made me smile, including Daniel Day-Lewis as Best Actor for
There Will Be Blood
and
Lincoln
(he should just get an Oscar every time he stars in a movie), Tommy Lee Jones for Best Supporting Actor in
The Fugitive
(I wouldn't want to mess with this U.S. Marshal), Hattie McDaniel for Best Supporting Actress in
Gone With the Wind
(which proves that people of any color can be great actors),
Independence Day
getting the Oscar for Best Visual Effects (at least popcorn movies get that kind of recognition), and
The Lord of the Rings: The Return of the King
winning 11 Oscars including Best Picture (which, to me, is really recognition for the entire LotR trilogy).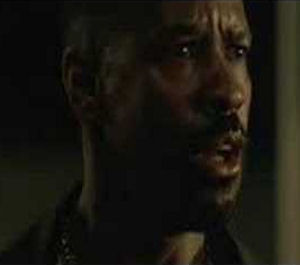 "King Kong ain't got s**t on me!" - Denzel Washington as Alonzo Harris in Training Day



"What I want from each and every one of you is a hard-target search of every gas station, residence, warehouse, farmhouse, henhouse, outhouse and doghouse in that area!" - Tommy Lee Jones as Samuel Gerard in The Fugitive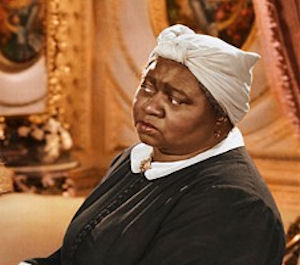 "What gentlemen says and what they thinks is two different things, and I ain't noticed Mr. Ashley askin' for to marry you." - Hattie McDaniel as Mammy in Gone With the Wind
On the flipside, I sort of have a love-hate relationship with the Academy Awards. There have been Oscar awards that I didn't agree with, have sparked controversy among the public, or just weren't considered. In 2011, I wanted
The Social Network
, a very engaging drama about a tech business, win Best Actor for Jesse Eisenberg and Best Picture, but both awards went respectively to Colin Firth and
The King's Speech
, a good but not phenomenal movie about King George VI's speech impediment. Also, I was hoping that the Academy would recognize action films more, especially those with depth, yet
The Dark Knight
,
The Dark Knight Rises
, and Skyfall were snubbed. (But hey, at least the British Academy of Film and Television Arts recognized Skyfall as an Outstanding British Film in 2013.) But of all the objectionable things the Academy has done, perhaps none has been more offensive than awarding Best Picture to the race relations drama
Crash
instead of the gay love story Brokeback Mountain. The outrage is understandable if you consider that Brokeback Mountain won Best Director (Ang Lee) and was considered a favorite to be the big winner. If anyone has stopped tuning in to the Academy Awards for good because this surprise snub was a slap in the face (and possibly a blatant sign of homophobia among the Academy Award voters), I won't be surprised. Hell, even actor Jack Nicholson, who announced the winner, was stunned.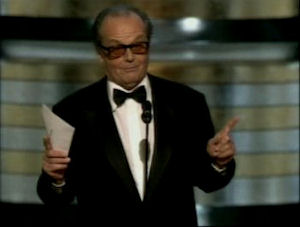 "And the Oscar goes to . . . Crash! (Whoa.)" - Jack Nicholson announcing the Best Picture Oscar in 2006
So who exactly are the people voting for the winners of the Academy Awards? Well, according to The Los Angeles Times in 2012, there are roughly 6,000 members of the Academy, all involved in film production in some capacity, such as acting and cinematography. But you know what's really striking? The demographics. Apparently, the overwhelming majority of Academy Award voters are Caucasian, male, and over 60 years of age, hardly representative of the movie audience at large. While I will never know who the specific individuals in that voter pool are, one thing is clear. There seems to be an air of elitism within the Academy. It's as if they're saying, "We know what great movies are. You don't." But let's remember. The Oscars are not the only movie awards ceremony out there.
In fact, why am I limiting this commentary to just the Oscars?
The Oscar Alternatives
There's also the Golden Globe Awards, held by the Hollywood Foreign Press Association several weeks before the Oscars. They are considered a prelude to the Oscars, because really good movies can be recognized in both ceremonies. At the same time, they are like a second-tier ceremony, because some moves, cast members, and film crew members can be good enough to win Golden Globes, but not win or even be nominated for the Oscars. But at least the Golden Globes are around to give non-Oscar contenders a chance to still be honored.
I remember when Sacha Baron Cohen win the Golden Globe for Best Actor in a Comedy or Musical for his immersive performance in
Borat
. He never got nominated for an Academy Award for Best Actor for the same movie, but that's OK. Their standard is much higher than that of the Golden Globes. There are other examples of Golden Globe recognition that I'm happy about even if the Academy snubbed them, like Robert Downey Jr. winning the Best Actor (Comedy) Golden Globe for
Sherlock Holmes
. Winning anything is better than nothing.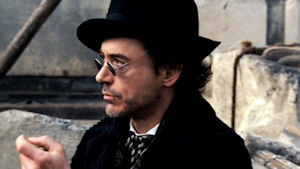 Robert Downey Jr. as Sherlock Holmes, a non-Oscar contender but still Golden Globe-worthy
These days, I never like to celebrate any award for a movie I see, at least not so enthusiastically. If you go to the Internet Movie Database (IMDb) and go to the movie awards section of the website, you can see that there are a ton of movie awards out there, many of which are less recognizable than the Academy Awards and Golden Globes but are still nice to see. For example, the American Film Institute picks the 10 best movies and 10 best television shows each year. There's also the People's Choice Awards and the Screen Actors Guild Awards, among others. Really, any movie award is something to smile about, except of course for the Golden Raspberry Awards (a.k.a. Razzies) recognizing the worst of film simultaneously with the Academy Awards recognizing the best (at least, the best in their opinion).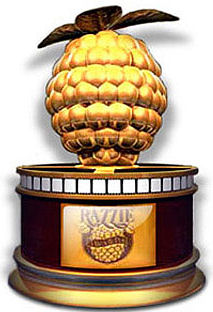 The Golden Raspberry, the award nobody in Hollywood wants
Audience Satisfaction: The Real Award for Movies
I imagine that some of you out there shun all movie awards and just focus on enjoying the movies themselves, without caring what the critics or award presenters say. You know what? There's nothing wrong with that. If anything, you remind us of the real purpose of movies: personal satisfaction. It's like anything in life. Awards and opportunities for recognition are just forms of subjective opinion, which you can't control. That's why the passion for filmmaking is more important than box office numbers and accolades. Sure, it'll be great if you succeed in those areas, but it's not the end of the world if you don't. For the rest of us in the audience, the important thing is that we feel happy when we watch movies that capture and engage our hearts and minds.
So let's remind ourselves that the real award of moviemaking is audience satisfaction and that the real award presenters are the people in the audience. Each person who watches a film and enjoys it is presenting the award of thanks for making an enjoyable film. It doesn't matter what the genre is, how high or low the production value is, or how smart or dumb the intended audience is. If people enjoy the movie, that's reward in and of itself. If you totally disregard movie award ceremonies and just focus on enjoying the films you love, I say there's nothing wrong with that.
Oscar Sideshow
Then again, the Oscars provide some entertainment alongside the actual award ceremony. Just as some people watch the Super Bowl only for the creative and funny commercials and not the actual championship football game, there are people who tune in to the Oscars just for others things and not the actual Oscars. For instance, some people, women especially, like to judge the quality of the dresses that various female celebrities are wearing in attendance. It is such a popular sideshow that people talk about the best-dressed and worst-dressed at the Oscars, as if there ought to be Oscars just for ladies' fashion. Of course, there is more to check out at the Oscars if you're not interested in that sort of thing.
You can enjoy the jokes that the Oscar hosts make during the show. Depending on your taste in humor, you might laugh along with Steve Martin, Billy Crystal, Chris Rock, or Seth MacFarlane, just to name a few. Speaking of which, Seth MacFarlane performed a controversial sexist song that you'll probably hate: the "boobs" song, referencing various Hollywood actresses who have appeared topless in films. The only actress who seemed to be genuinely smiling was Jennifer Lawrence, because she is mentioned in the song as an actress who has not yet been topless on screen. Now, if that doesn't suit you, you can enjoy musical performances of songs nominated for Best Original Song or take a moment to remember the celebrities who died in the past year.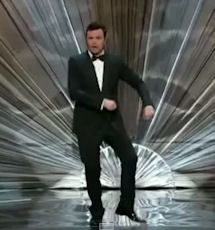 Seth MacFarlane appears to be making a fool out of himself.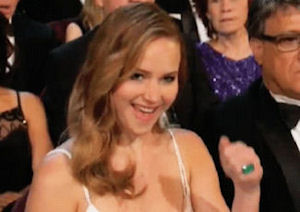 At least Jennifer Lawrence is proud not to be topless in movies.
Conclusion: Follow Your Tastes
The point I am making with this commentary is simple. Depending on your cinematic interests, the Academy Awards, and other film awards like it, may celebrate the elite of filmmaking or come across as elitist towards unnominated movies that you love. If you feel more of the latter, don't be discouraged or upset, because the people behind the awards are just like the rest of us: human beings with specific tastes in film. If your favorite movie goes unnoticed, it's only because their take in film is different. In that case, look for anyone with a more similar taste in film, or just enjoy the movies you love without caring what others think. After all, the whole purpose of a movie is to entertain our hearts and minds. The lack of golden statues, trophies, honors, et cetera won't change that one way or another.