Well, folks, here I am. A little more than a month ago, I toured the studios of Paramount Pictures. Previously, I went on public tours of
Sony Pictures
and
Warner Bros.
, both of which were incredible experiences. I made a note to visit Paramount because that's the only other major movie studio offering in-depth public tours that I hadn't set foot in yet. Now, I have officially visited all three movie studios in the Los Angeles area that provide public tours (putting aside Universal Studios that is mainly a theme park with a cursory studio tour on a tram). Of course, if other studios start offering tours to the public, I'll gladly sign up and share my experiences in another entry of this Movie Studio Tour article series. But for now, I've done it all.
If you decide to tour Paramount Pictures, there are three tours to pick from: the basic Studio tour, the VIP tour, and the After Dark tour. Given that the After Dark tour is a special evening engagement and the VIP tour offers more stuff than the regular Studio tour, I opted for the VIP treatment. The extra perks for going on the VIP tour were a couple of extra tour stops as well as food. You can either do the VIP tour starting in the morning and get a full lunch at midday or do the VIP tour later in the day and get hors d'oeuvres in the evening. I chose the earlier tour to get the experience of a full meal at Paramount.
A couple of things to keep in mind before I proceed. The purpose of this article is not to describe a tour in detail so that you don't have to go on the tour yourself. Rather, the purpose is to show you plenty of things about the tour in detail in hopes that you'll be inspired to go on the tour yourself. Because of this, I may leave a few specific details out, but everything I show you here still covers all of the parts of the tour. In addition, the tour photography policy at Paramount Pictures is that it's only forbidden to take pictures of the insides of soundstages and other designated areas. I have made every effort to present pictures that were allowed to be taken. Still, if you are a Paramount Pictures staff person who feels that some content on this page infringes on privacy or copyright, I will be more than happy to cooperate and make any necessary revisions to this page.
That said, I now present to you my tour of Paramount Pictures, which took place on November 28, 2016.
Quick Self-Guided Tour: Studio Lot Perimeter
First, a little geography. In the north part of Los Angeles, California, is the section of the city that every film lover knows about: Hollywood. The streets that characterize Hollywood are Hollywood Boulevard and Sunset Boulevard, which run east and west, as well as certain north-south streets like Vine Street. You'll find all sorts of unique and glamourous movie-themed sites in this area, like the Pantages Theater, plus the Hollywood Walk of Fame. If you go south of this area, though, you'll quickly leave behind the Hollywood glitz and enter an otherwise ordinary-looking city. Believe it or not, this is where you will find the Paramount Pictures studios.
Paramount Pictures is surrounded by Santa Monica Boulevard in the north, Van Ness Avenue in the east, Melrose Avenue in the south, and Gower Street in the west. This studio lot is located not too far from the 101 Freeway, a.k.a. the Hollywood Freeway, located to the east. In fact, this was how I arrived at Paramount. I had driven north on the 101, exited at Melrose, and headed west. Afterwards, I turned south on Windsor Boulevard and immediately parked in a lot designated for Paramount studio tourists. The picture of the Paramount entrance you see above was taken at the intersection of Melrose and Windsor, after I parked my car and walked to the street corner.
Because I had arrived about 45 minutes early (in L.A., you always have to worry about heavy freeway traffic), I decided to kill time by walking along a portion of the studio lot's perimeter. I crossed the street and strolled west on Melrose alongside Paramount itself. I spotted the entrance for the studio tour at Melrose Avenue and Plymouth Boulevard, but the door wasn't open yet. So I continued west and passed by large movie posters on Paramount's wall, including those for Arrival and the upcoming XXX: Return of Xander Cage and the classic
It's a Wonderful Life
. There were also entrances for certain guests, including one for Paramount's special events and one for people attending a taping of a Nick at Nite show called Instant Mom.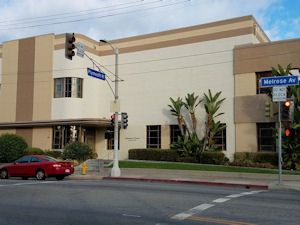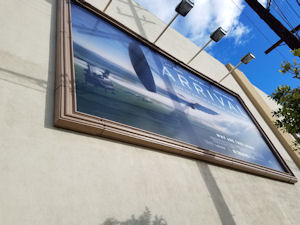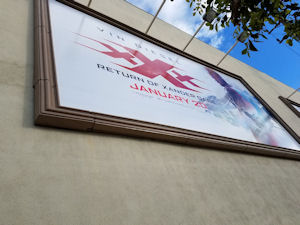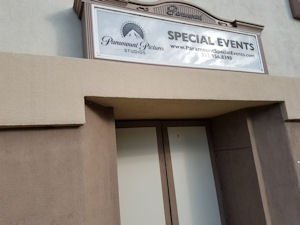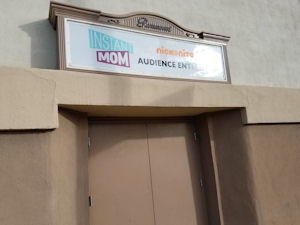 Then I turned north on Gower. The first thing I saw was that much of the curb of this street had trailers parked, which were designed for actors, costumes, and electrical equipment for filming. I didn't take pictures of these out of concerns for security, but I did take a photo of an entrance into Paramount from the west.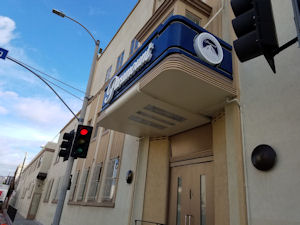 Quick Self-Guided Tour: The Pre-Tour Rooms
Seeing the amount of time I had until the tour and the long distance of just two sides of the studio lot, I decided to head back to the Paramount studio tour entrance on Melrose. I still had maybe half an hour until the tour began, but this time, the door was open. Upon entering, I underwent a quick security check, emptying my pockets and walking through a metal detector, and received my VIP tour badge at the check-in desk. Then I stepped into a waiting room and sat on a cushioned bench.
Turns out it wasn't one waiting room. It was actually two. The main feature of the first room was a timeline of key events in Paramount's history, titled The Paramount Story. The panels alternated between photos and text descriptions. The most notable things I noticed and photographed: Paramount found Adolph Zukor, the specific Utah mountain that is used for the mountain in Paramount's logo, the 1927 film Wings winning Paramount's first-ever Oscar for Best Picture (at the very first Academy Awards!), Lucille Ball and Desi Arnaz of Desilu Productions, director Alfred Hitchcock, the Star Trek franchise, the
Godfather
series, and the company Viacom that now owns Paramount plus various cable television channels like MTV, Spike, and Nickelodeon.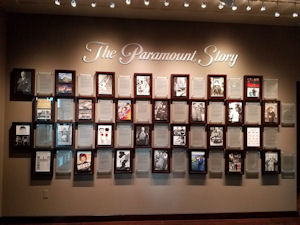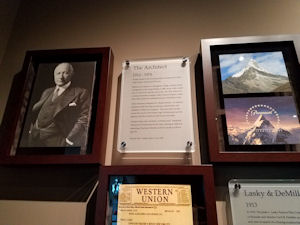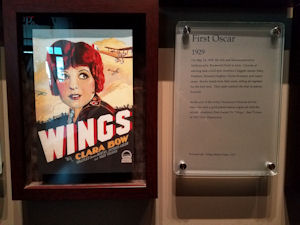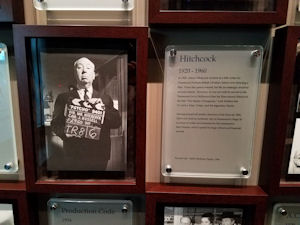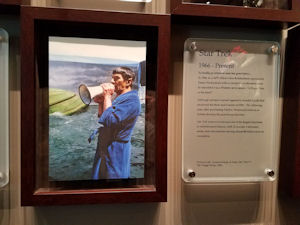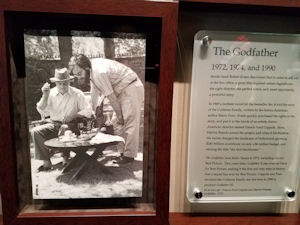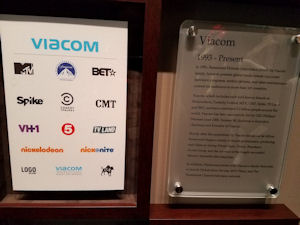 As for the second room, its main feature also occupied a wall. A video was continuously and repeatedly shown on the wall, probably using a projector. First, there were names of various movies from Paramount Pictures scrolling vertically. Then the video played a montage of Paramount movies, past and present. One part listed all 12 Paramount movies that won the Academy Award for Best Picture: Wings, Going My Way, The Lost Weekend, The Greatest Show on Earth, Ordinary People, Terms of Endearment, The Godfather,
The Godfather: Part II
, Forrest Gump,
Braveheart
,
Titanic
, and
No Country For Old Men
.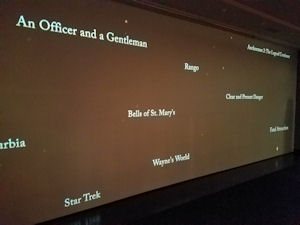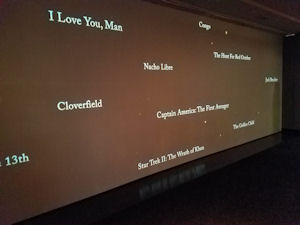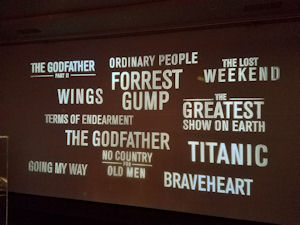 The second room also had a few things on display. For the sake of providing only samples, I'll show you just one photo: a headdress that was worn in the 1956 film The Ten Commandments.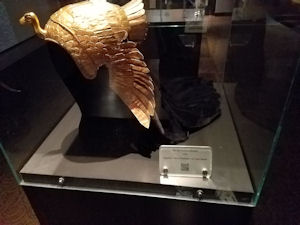 First Tour Stop
Finally, the guided tour officially began, with a tour guide leading me and five other people into another room that served as the tour's first stop. This was where we got a quick introduction to Paramount and its history. That's when we got our first unique sight of the tour: a hole in the ceiling, purposely left there so that we could look through to see the remnants of a fire that struck Paramount a long time ago. (I'm purposely leaving a photo of that out of this page, just to whet your appetite.) The room also has a section of the Allspark that appears in the 2007 film
Transformers
and the current Paramount lot schedule next to a Terminator statue.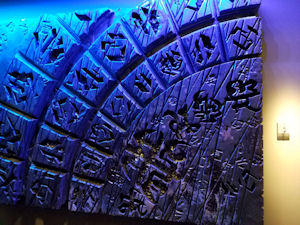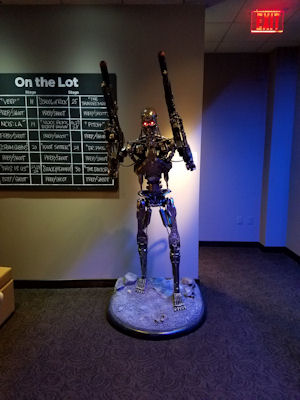 Afterwards, we stepped out of the building and walked to our next stop. Needless to say, the excitement would only grow as time went on.
Prop Warehouse
We entered Paramount's prop warehouse, which was such an awesome place because I got to see things from certain movies up close. Before I share some examples, a couple of notes. This part of the tour was both self-guided and led by the tour guide. Initially, the tour guide stepped away for several minutes to take care of business and allow the rest of us to view props on our own. Also, it was an opportunity for all of us to enjoy a complimentary drink as part of our VIP tour, in addition to a complimentary bottle of water. I sipped a warm smooth hot chocolate as I wandered the warehouse.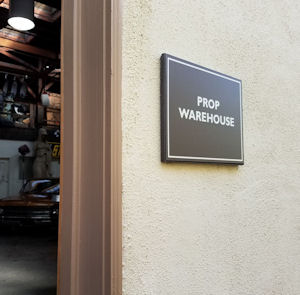 So what I did see in there? Well, a lot of cool stuff, and I mean A LOT: a Turbolift from Star Trek Beyond, Optimus Prime from Transformers in truck form, a clock from
The Curious Case of Benjamin Button
, a cryobed from
Interstellar
, Bumblebee from Transformers in robot form, Brick Tamland's tombstone from
Anchorman 2: The Legend Continues
, and a poster for the fictional movie The Fatties that is mentioned in
Tropic Thunder
. Note that these are just samples. The warehouse had more things I didn't feel like listing.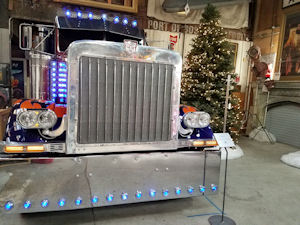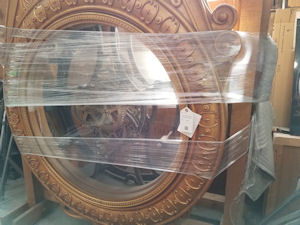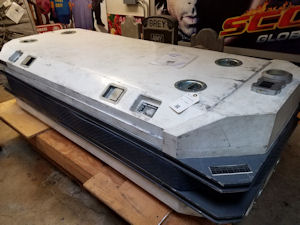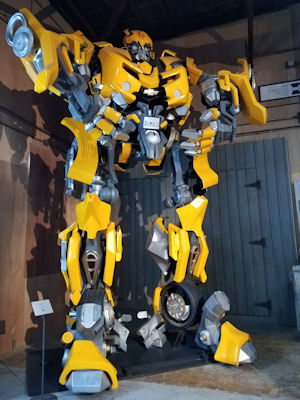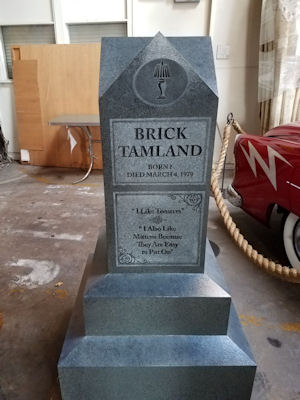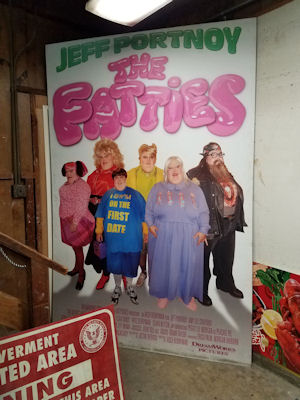 Afterwards, we stepped out of the building and got into a golf cart with four sets of seats. It's a good thing there were golf carts at Paramount, because as you will soon see, it's a rather big place.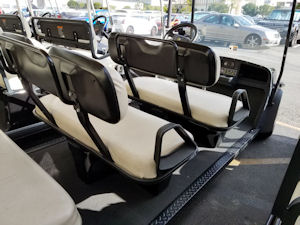 En Route to the Bronson Gate
With the tour guide as its driver, the golf cart took us from the prop warehouse to a nice park area with grass, concrete paths, and some tables and chairs. It can serve as a resting area for Paramount staff, as well as a place to shoot film if one needs a park setting. However, the real stop was past this area: the Bronson Gate, pictured below.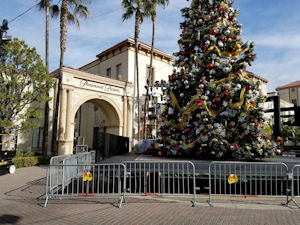 As simple as it looks, the Bronson Gate, named for Bronson Avenue that originally ran up to it, has plenty of fascinating history. For one thing, it can act as a symbol for Paramount Pictures. Also, this was where actors way back in the day came to audition. The tour guide used a tablet computer to show us an old black-and-white photograph of this same area we were standing in, but with a crowd of people standing outside an office door next to the gate (which would be behind the Christmas tree in the photo above). Those people were aspiring actors, and only a very lucky few found work this way. Perhaps the most notable example: Charles Bronson, who had changed his last name from his original difficult-to-pronounce surname to the name of the gate he had come to.
Paramount Theater
We walked from the Bronson Gate to the Paramount Theater not too far away. It's a pretty nice place to see, both outside and inside. I loved the simple design of the lobby, with a big clearing on the ground level, symmetrical staircases on either side, and the Paramount logo at the center of the upper level railing. It was also interesting that the lobby had long tables with chairs set up in the middle, because as it would turn out, this was where we were going to have lunch. Definitely a really nice perk for the VIP tour.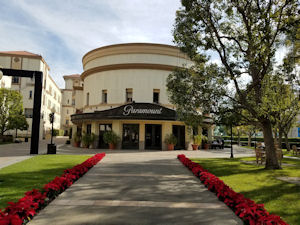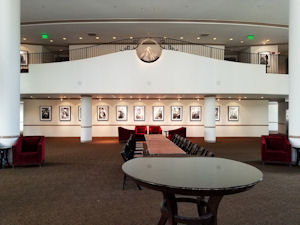 The lobby is such a nice place that, like any other area on the Paramount lot, anyone can film something here. You can turn this theater lobby into, let's say, an art gallery for a television show like Rizzoli and Isles. Or you can make it look like a hotel for a Harrison Ford movie. That was when the tour guide, on his tablet, showed us a clip of the movie Clear and Present Danger in which Ford as Jack Ryan enters a hotel lobby in a foreign country. It totally looks like he's in another part of the world, but by comparing what's in the film and what was literally around us in the lobby, we could see that it was all a really neat illusion.
After that, we all went into the theater auditorium. It's a lot like any modernized theater of a major movie theater chain, though the seats were a little bigger and softer than the usual movie theater seat for ordinary moviegoers. As we were taking this rare opportunity to lounge in a movie studio's theater, the tour guide explained that this was a place for Paramount employees to watch free movies as a nice complimentary benefit. The tour guide also talked about test screenings, the process by which people watch an unfinished film and provide honest feedback that would, often drastically, result in changes to the film. It could determine things like the star of the movie, the movie's ending, and the writing of key scenes. All of this made me think about trying out a test screening at least once in my lifetime.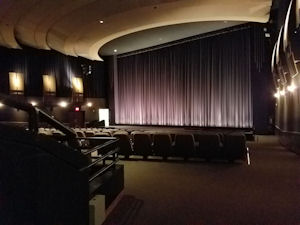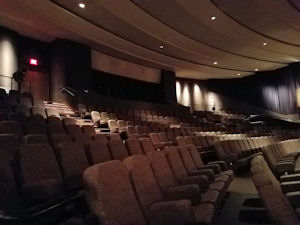 Forrest Gump's Bench
Right outside the Paramount Theater is a series of benches along a pedestrian path. One bench in particular is significant: a bench that appeared in the movie Forrest Gump, pictured below. And yes, folks, you CAN sit on it, while imagining your life as a box of chocolates!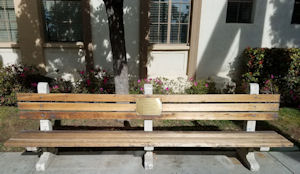 Three Buildings of Historical Interest
While we were still on foot, the tour guide took us through the Bronson Gate to a nice looking area consisting of three long buildings surrounding a little park area. The thing to appreciate about these buildings is the coordinated functions they had in the past. A long time ago, one of the buildings served as a place for actors waiting for work, another was for the directors to do film planning, and the third was for film producers to make decisions about films. Basically, imagine a three-step pre-production process with each building involved in a different step. Given the rigors and demands of filmmaking, I can imagine how such a procedure could keep things running smoothly.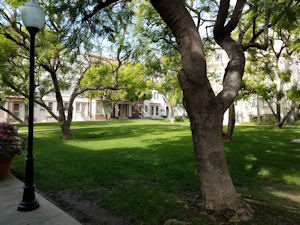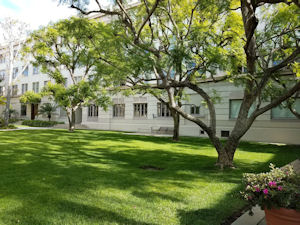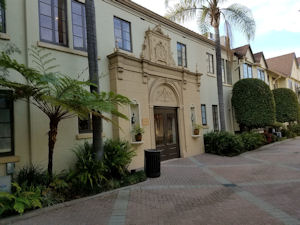 Special Effects Department
As part of the VIP tour, we got a chance to see Paramount's department for special effects. (Note: The term "special effects" is an umbrella term for methods to achieve illusion on film, which can include computer-generated "digital effects" as well as less sophisticated methods.) The tour guide drove us in the golf cart to an industrial section of the Paramount lot. We walked into a warehouse-like building and stepped into a big workshop area. Our attention, however, was directed to a nearby glass case.
Look at the picture below. Are all the knives and sharp implements in the case real? Believe it or not, the answer is no. They're all made of plastic, but with the same color as actual metal. Other items in the case include fake snow, fake money, and even a bust of Arnold Schwarzenegger. (Honestly, I forgot what the purpose of the last item was.)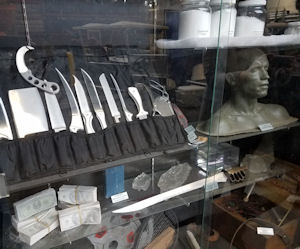 The tour guide showed us more fake items, like a sponge made to look like an actual solid red brick. Speaking of brick, here is a picture of plastic that is made to look like a building's brick surface.
I save the best for last. We all got to see, touch, and hold fake blood. I'm not talking about something in liquid form. Rather, the fake blood is a piece of red plastic that is shaped to look like a splatter. So after feeling it, I placed the red plastic on the floor, stepped on it, and took the picture below. It's amazing how a simple item like this could make it look as if I am bleeding profusely from my toes, through a hole in my shoe, and onto the floor.
Sign Department
In another building, nearby the special effects department, was the sign department. This is where Paramount creates signs, mainly for filming but also for work-related purposes such as identifying soundstages. We walked into the building and up a flight of stairs where the magic of making signs takes place.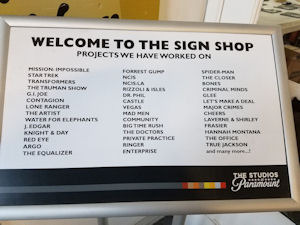 The room we entered looked like any kind of workshop, with a workbench here and there and plenty of work supplies. But one feature immediately made this place unique: a glass cabinet containing samples of fake signs made by this department. It was a chance to appreciate up close the level of detail that fictional logos, signs, and the like have and the amount of work that goes into it all.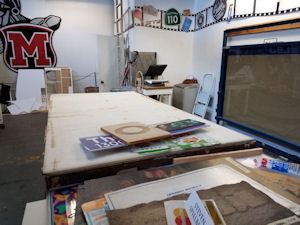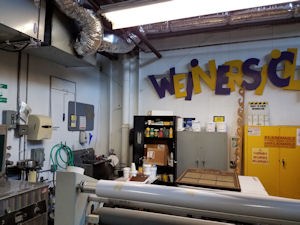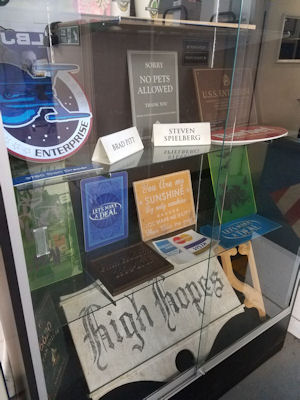 The tour guide also showed us a copy of one item in the cabinet: a paper displaying fake credit card logos. From far away, they look like the logos for Visa, MasterCard, and American Express, but up close, you'll see that they're parodies of those three major credit cards. By changing the name, and even the color scheme, slightly from the original, Paramount cannot be accused of product placement in a movie without permission. Even so, they may appear small on screen or only briefly so that the audience wouldn't really notice the credit card logos are fake.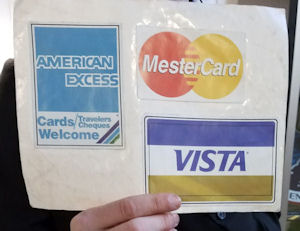 And to conclude this segment, here's one more picture from the sign department: the various Paramount logos used over the years.

Lunch Time!
The tour guide took us back to the Paramount Theater for lunch, the midday perk for the early VIP tour. On one side of the room was a long table with the food items we eagerly placed on our plates: roasted chicken breast, steamed vegetables, garden salad, bread, and littles cakes and cookies, plus beverages like water to wash it all down. We all sat at the long table that was already set in the middle of the room earlier in the day.
I spent the next hour savoring this rare movie studio-provided lunch while chatting with the other members of my tour group, all of whom visited from elsewhere in America or from overseas. It was nice to see that the world of movies has universal appeal. There was also conversation with the tour guide, who talked about wanting to become a screenwriter as well as an assortment of other random movie-related topics. Overall, this was a very memorable lunch.
Film Archive
The Paramount lot does have a New York backdrop for filming, but because something was being filmed there on this tour day, we were told to be quiet and not take any pictures. So I don't have pictures of this part of Paramount. But where we went after that was a whole lot more exciting.
We entered an archive building. The room beyond the entrance looked very much like the inside of a delivery facility, with lots of packages stored here and there and a front desk for processing orders and stuff like that. Of course, we didn't stay there. We walked through to a big room towards the back, a place that is also only available for the VIP tour. By paying plenty of extra money, we had the privilege of seeing Paramount's film archive. Look at the three photos below to see how impressive it all is.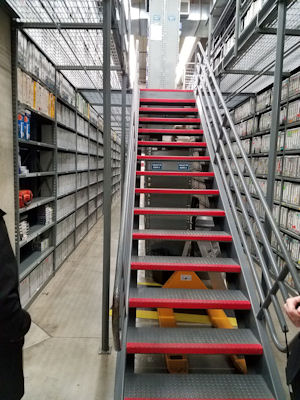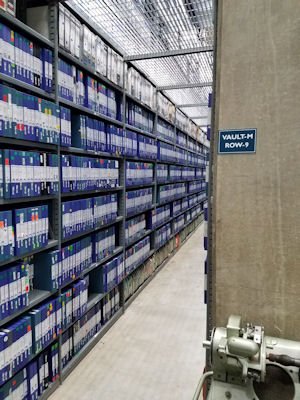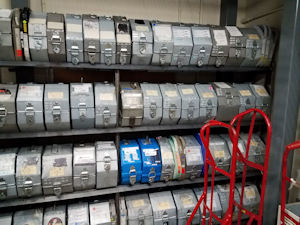 Just imagine. Every single thing that Paramount has ever filmed is kept in here. It doesn't matter if it's a theatrical feature or something really small with a specific audience. It's all here. Also, different versions of a movie are stored separately. Expect multiple storage units (video tapes, film reels, etc.) for a film's theatrical release version, a version cut for airing on television, a foreign language dubbed version, and whatever other deviation from the original that needs to be made.
What about movies that are shown at theaters using digital projectors? Well, here's something I never knew until this tour: digital movies are kept on hard drives. One hard drive with a single digital movie is shipped to a theater, then connected to a computer in the projection room. Below, you can see what a stored video tape and a digital movie hard drive look like up close.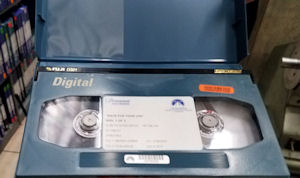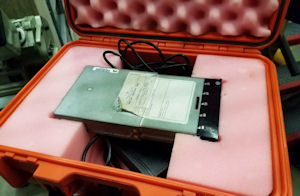 Costume and Prop Archive
The building with the film archive doesn't just archive movies. It also archives costumes and props. The upstairs level of the same building was where we got to see a lot of stuff actually used in our favorite Paramount movies. Because there was quite a lot to see, the pictures I present here are not in the order in which I saw them on the tour.
First off, here are pictures of Edith Head, who was a legendary Hollywood costume designer in the early 20th century. She had taken home a lot of Academy Awards for her costumes in various movies, which says a whole lot. Now, you might wonder why she wears tinted glasses. Well, there's a very good reason. Those lenses made her see everything only in black and white. This was important because films in her time were only in black and white, so if she designed a costume for a movie, she needed to see how the costume would look in black and white. Unlike today, there was really no point in seeing how nice the colors of the costume were.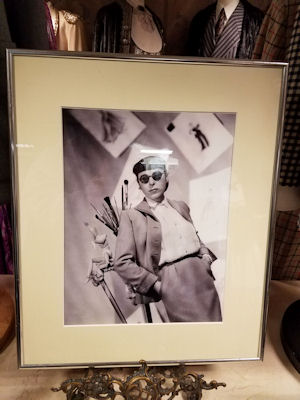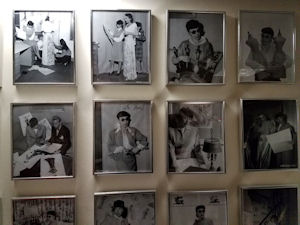 So here are some notable costumes I saw on the tour: Eddie Murphy's outfit in Beverly Hills Cop 2, Lindsay Lohan's dress in Mean Girls, Jim Carrey's dress clothes in
The Truman Show
, Tom Hank's soldier uniform in
Saving Private Ryan
, a costume for Priscilla Presley in
The Naked Gun 33 1/3: The Final Insult
, and Denzel Washington's uniform in Flight. And remember, this is only a sample. There are plenty more costumes to see than just what I'm showing below.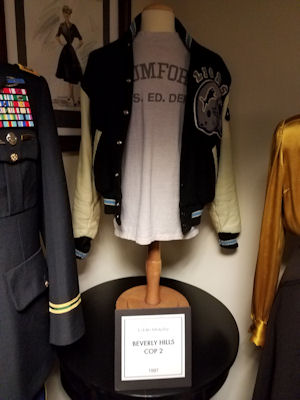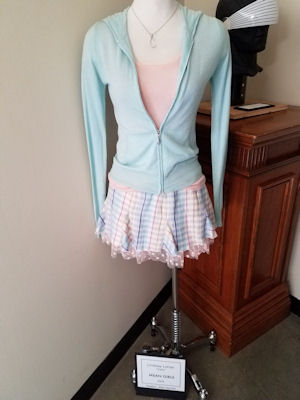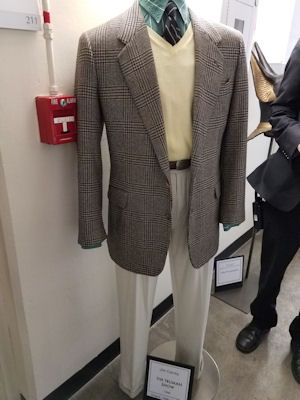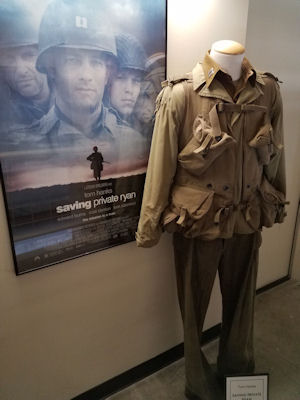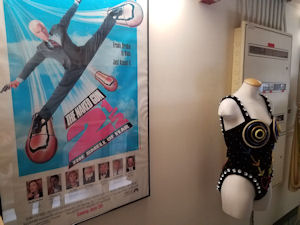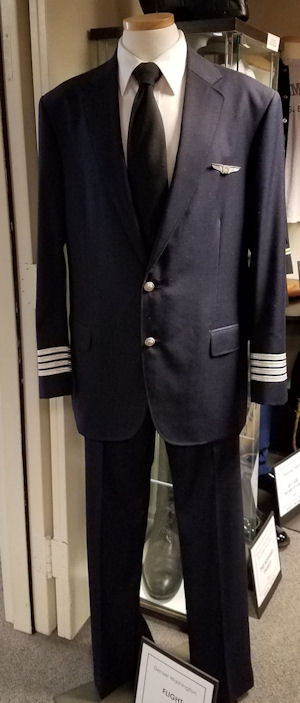 Not too far from the costumes was a room for props. Not a complete archive of props, but a sample for displaying to tourists like myself. The props shown below are as follows: fake heads used for murder scenes in
Sweeney Todd: The Demon Barber of Fleet Street
, props for the newest Star Trek movies, helmets from Gladiator, and props from Interstellar.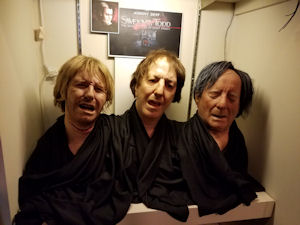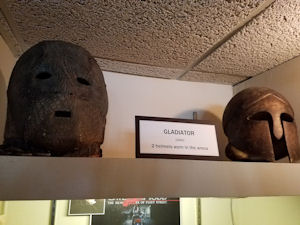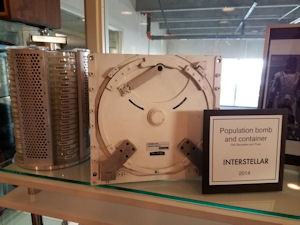 And finally, we saw a room that archives jewelry used in Paramount films over the years. I imagine all of it is worth a ton of money given their value as Hollywood props. But who would want to sell it? The real treasure is knowing that the jewelry contributed to great Hollywood entertainment.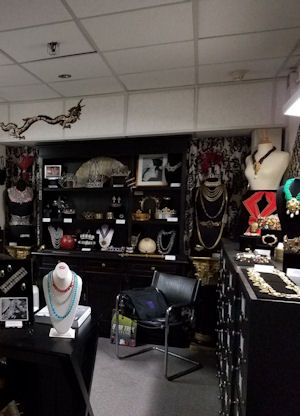 Paramount Water Tower
Here are pictures of the Paramount water tower. The structure doesn't really have a functional purpose because, as far as I know, it doesn't store water. Rather, it's there as a symbol of pride for the studio. (Just like the water tower at Warner Bros. Must be a Hollywood studio trend.)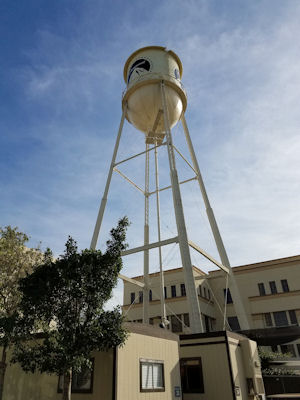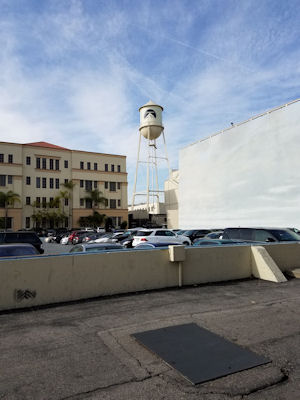 Blue Sky Tank
This is a perfect segue into the next stop. You can already see in two of the water tower photos above that there is a parking lot bordered by a low wall. It may not be an exciting feature, but actually, it is. Before I explain, take a closer look at the next photos below.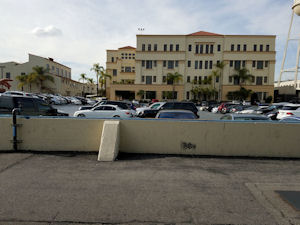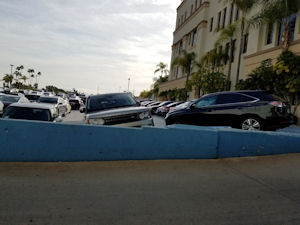 Besides the low wall, you will notice that the parked vehicles along the perimeter of the lot are tilted slightly, not horizontal on perfectly flat ground. That's because the lot can double as a giant shallow water tank, which is why it's called the Blue Sky Tank. If one needs to film a scene in a large body of water, like an ocean or lake, you can have Paramount empty this lot and fill it with water. Of course, you also need a backdrop that looks like a sky. In case it isn't obvious from the water tower photos, there's a wall that can be painted to look like a sky. Below, you can see a better picture of it.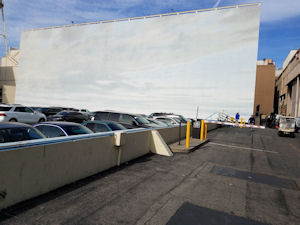 I imagine it must be fun when an aquatic scene is filmed here. The people in the adjacent brown building must get a kick out of watching the action from their windows, assuming they are still in there when filming commences. Oh, and here's one more neat tidbit. I took a picture of the path that runs between the lot/tank and the wall. It would be a rather uninteresting photo if it weren't for the fact that a notable movie scene was filmed here: the parting of the Red Sea in the 1956 film The Ten Commandments. That's right. Charlton Heston and a bunch of extras were filmed walking down this path in order to create the illusion of Moses leading the Hebrews across the Red Sea.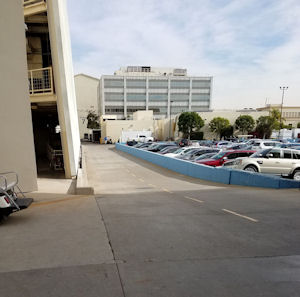 CELEBRITY SIGHTING!
Whenever one goes on a movie studio tour, there's always the possibility of seeing a celebrity, though it's often a very small chance. When I had toured Sony Pictures and Warner Bros., I didn't see any major celebrities I knew. Naturally, I didn't anticipate it on the Paramount tour either. But just when I least expected it, this day was going to be one very lucky day.
The tour guide was getting ready to drive us away from the Blue Sky Tank, before suddenly telling us the name of a celebrity approaching. I didn't hear the name clearly at first, but I didn't need the tour guide to say it again, because the actress who came into view was someone whose face I easily recognized. Right away, I reached into my pocket, pulled out my cell phone, and frantically opened its camera app. As I was almost in a prime position to take a picture, I and the rest of the tour group waved to her. She smiled and waved back. I quickly asked if I could take a picture. She agreed, and I took a photo. Despite my nervousness and slight shaking, the picture was NOT blurry at all!
A moment later, someone in my group started to get out of the golf cart and asked for a picture with the actress. Sadly, the actress said she was busy and was in a hurry to get back to work. While there was no picture taken of a tourist with the actress, I was sure that everyone still savored this unexpected and rare moment. I know I was thrilled. As someone who doesn't live and breathe the inner workings of the film industry, I sat in the golf cart feeling very happy and relaxed. But enough about me. You want to know which actress I was so lucky to get a picture of.
Without further adieu, I now present to you... Jamie Lee Curtis!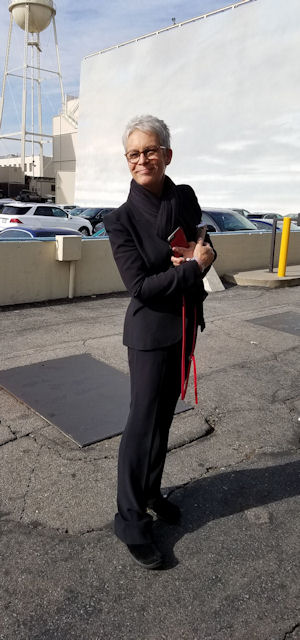 Stages 27 to 30: From the Mafia to the Doctors
The northwest corner of the Paramount lot is occupied by Stages 27 through 30. The little street that runs by these soundstages is Leonard Nimoy Way, but it also has a nice nickname: Godfather Alley. That's because Stages 27 and 30 were where The Godfather was filmed and Stages 28 and 29 were where The Godfather: Part II was shot. It's amazing. On the outside, they look just like any other soundstage. But on the inside, two Academy Award-winning movies of the same series were filmed. Pretty cool.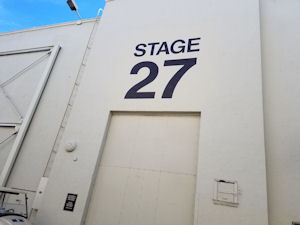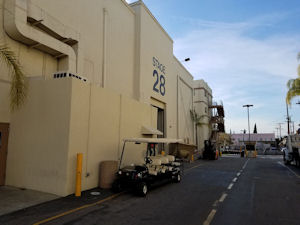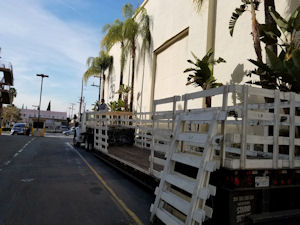 The tour guide then took us into Stages 29 and 30. Now, because of the photography policy, I have no pictures to show, so use your imagination.
Stage 29 is currently used for tapings of Dr. Phil, the talk show where the host, psychologist Phil McGraw, talks to people about their personal and mental health issues. Think of it as a show where people willingly have psychotherapy on television. Obviously, there was no live taping when we entered. The wooden stage area did not have the host and guest chairs seen on TV, and no video monitors were hanging on the stage walls. But it was still cool to sit in the audience seating area as the tour guide gave us an overview of the show.
Similarly, we got to see Stage 30. This is where episodes of the medical talk show The Doctors are taped. Two words can describe the set of this show: sleek and modern. It has a metallic look as opposed to the wooden motif of the Dr. Phil stage. I do not watch either The Doctors or Dr. Phil, but I appreciated checking out television show stages up close. I'm sure it'll be even more delightful for fans of either or both shows.
A Few More Interesting Sites
As the tour continued, we were shown a few interesting sites along the way. First off, we saw a brick building that, if I recall correctly, once provided housing for Katharine Hepburn. And in front of that building is a grass area. That was where the tour guide gave us a little history about RKO Pictures, because that old studio once stood there, next door to Paramount.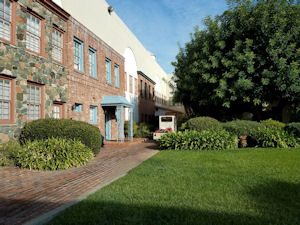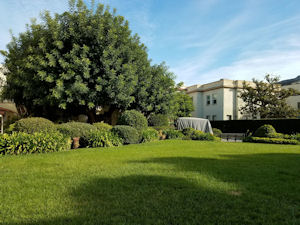 Shortly after, we passed by a map of the whole Paramount lot. Seeing it reminded me of how big Paramount really is, and why golf carts are so useful here. But that's not all. Beneath the map is a section of the sidewalk that actors Ted Danson and Woody Harrelson once left hand or foot prints in before the concrete dried.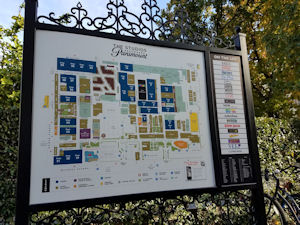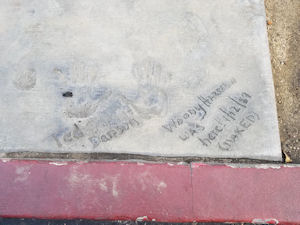 On the Set of Grace and Frankie
If there's one trend that is challenging traditional television programming, it's the development of web series, especially those that even big-name actors are signing up for. An example of this is the Netflix series Grace and Frankie, which is filmed on Stage 24 of Paramount. The show stars Jane Fonda and Lily Tomlin as the title characters, two women who bond as they both have issues with their own husbands, played by Martin Sheen and Sam Waterston. We got to check out the set of Grace and Frankie inside of Stage 24. Once again, use your imagination since photos were not allowed.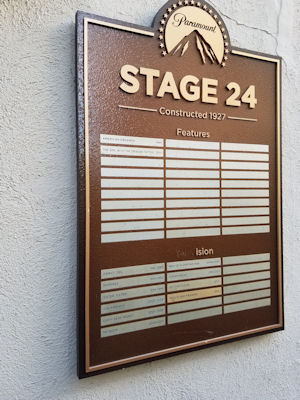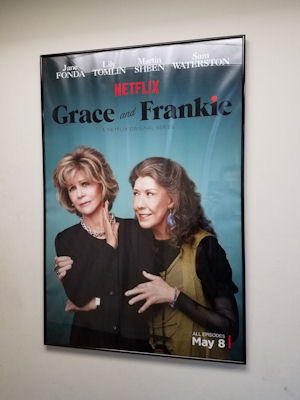 The entire set, at the time we entered, was made to look like a beach house. We saw parts of the outside of the house that could be filmed and walked into the rooms where the characters do their thing. As we looked around, the tour guide explained that much care went into deciding which items would go in each room, especially taking into account the specific details of the main characters. Besides the inside of the house, there's also an area with sand piled into it, meant to recreate a beach. I asked about having a background for the beach, and the tour guide explained that there would either be a giant curtain with a stationary background or a green curtain that it would be replaced with a video background. All in all, I found it all cool to see. And if you love the show, come on the tour and check it out (assuming the show will still be taping by then).
End of Guided Tour
At this point, the tour was coming to an end. The tour guide did give us one interesting photo opportunity. He took us to a spot where we could see the Hollywood sign in the distance just above Stages 30 and 31. After that, he took us to the Paramount Studio Store and gave us time to browse and purchase anything from there. Because we were VIP tourists, we were entitled to a discount if we decided to buy anything. For me, I didn't buy anything, because what I came for was the experience of touring Paramount Pictures. Still, there was one funny moment while in the store. When I looked at the DVD cover of Forrest Gump, I laughed because I had sat on a similar bench (maybe the exact same one) earlier in the day.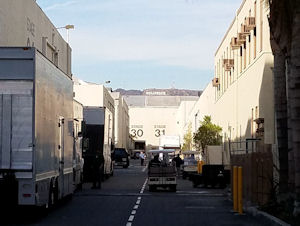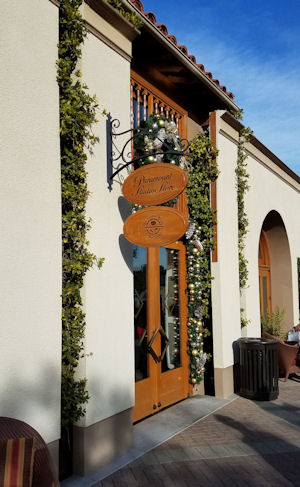 After leaving the store, the tour guide thanked me for spending part of the day with Paramount, then gave me two gifts. One was a Paramount envelope containing a personalized thank you card. The other was a tube containing posters for two Paramount movies: the World War II drama film Allied and the comedy movie Office Christmas Party. With that, I shook hands with the tour guide and walked through an exit turnstile that took me right back onto Melrose Avenue.
Quick Self-Guided Tour: Hollywood Forever Cemetery
Before heading back to my car, I did one more thing. I walked west on Melrose and north on Gower to enter the Hollywood Forever Cemetery (formerly Hollywood Memorial Park), which is adjacent to the Paramount lot on the north side. I wanted to see if there was anything interesting there.
Ultimately, I didn't come across too many significant sights. That's not to say this place is worthless. I am very sure there is much for movie lovers to see. It's just that I did not have any guides to help me locate the grave sites for Hollywood legends, and I did not have time to wander through the entire place. That's OK, because this cemetery visit was nothing more than a quick last-minute impromptu activity.
Still, I did manage to take three interesting photos: a mausoleum, a marker for Mickey Rooney, and a monument for the dog that played Toto in
The Wizard of Oz
. If you want to see more of the Hollywood Forever Cemetery, make an effort to come out there, and be sure to orient yourself to the cemetery layout and the locations of specific grave sites you want to see before making your visit.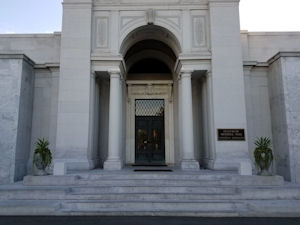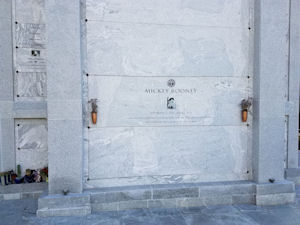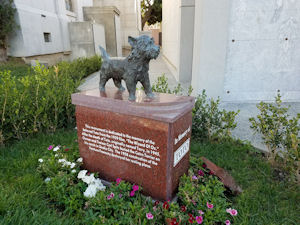 End of Tour
At last, I finished all of the touring I wanted to do for the day. I walked south on Van Ness Avenue, along the east side of the Paramount, then west on Melrose and back to the parking lot at Melrose and Windsor. Once I got into my car, I rested for a while. This was one incredible experience, definitely worth the money I paid for it. I also took a moment to reflect on all of the three movie studio tours I did. Like before, I could not believe that I never knew about the public tours available for Sony Pictures, Warner Bros., and Paramount Pictures. But hey, better late than never.
So unless another big movie studio in the Los Angeles area starts offering public tours for the first time, my work in checking out and writing about the available L.A. movie studio tours is done. I hope you enjoyed reading my account of the Paramount tour, as well as my stories of touring Sony and Warner Bros. if you've read them already. If you love movies and you want to tour the Los Angeles area, I guarantee that you will have a great time doing any of the studio tours available to the public.