Los Angeles, California, is the entertainment capital of the world. It is the place where you can find the legendary Hollywood Boulevard that runs by plenty of landmark locations. Anyone who loves movies can certainly spend a day walking along Hollywood Boulevard, to check out the Hollywood Walk of Fame, take pictures of Grauman's Chinese Theater and the Kodak Theater, and explore lovely shops and restaurants. Now, if you want to get closer to movie magic, you can tour a movie studio. When it comes to doing that, the one place many people think of is Universal Studios Hollywood, which includes a tram tour of the studio lot alongside amusement park attractions.
But if you're like me, you may initially be unaware of other movie studios you can tour in the L.A. area. From doing quick online research, I found out that public tours are also offered at Sony Pictures in Culver City, Warner Bros. in Burbank, and Paramount Pictures in Los Angeles. Once I made that discovery, I immediately vowed to visit each of those studios and really get a sense of how movies, as well as television shows, are made. Thus far, I have visited Sony Pictures and Warner Bros., and I'm planning to check out Paramount Pictures later this year.
This commentary piece is the first in a series of articles in which I share my observations and thoughts of a movie studio tour, accompanied by photos I took. As Sony Pictures was the first non-Universal studio I visited, that shall be the subject here. The purpose is not to provide a very detailed virtual tour that substitutes for the real thing. Rather, I am writing this in hopes of inspiring you to go on the tour yourself, especially as parts of the tour I saw may change by the time you decide to go. So don't just sit down and read what I'm about to describe. Look into paying a little money for a tour. I guarantee that it will be worth it.
Before I begin, let me provide a few disclaimers about photos. The policy of tour photography at Sony Pictures is that photos are allowed at certain locations, but not others. All of the pictures you will see on this page are ones that I took knowing that permission was granted. If photos were not allowed for a tour segment I discuss here, I will say so. In addition, permissible photos are allowed to be shared on social media, so I assume that it's OK to put them in this article as well. Still, if you are part of the Sony Pictures staff and you feel that some content on this page may violate privacy rights, please let me know and I will make the necessary edits. Lastly, some pictures inadvertently feature faces of other people, including my tour guide, and I've blacked them out to protect their identity.
With that, let's take a look at my tour of Sony Pictures, which I had visited sometime in November 2015.
Start of Tour
The Sony Pictures studio lot is located in Culver City, bounded by Washington Boulevard in the north, Madison Avenue in the east, Culver Boulevard in the south, and Overland Avenue in the west. Across Madison Avenue is the main pyramid-like administrative building of Sony Pictures, which is the picture you see at the top of this page. There is a fountain in front of the building, a receptionist desk in the lobby, and a dining area in the rear of the spacious lobby lined with some movie-related stuff.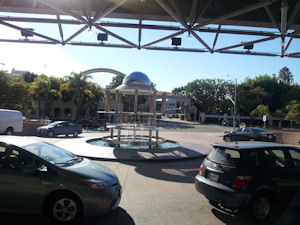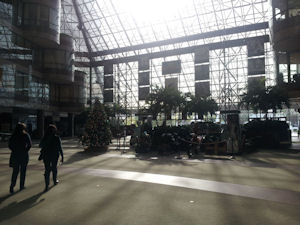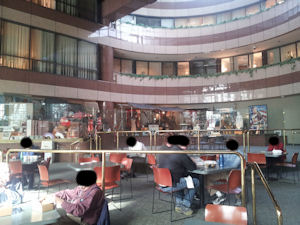 When I arrived for the tour, I had parked my car in the parking garage beneath this building before taking the elevator up to the lobby level. I was greeted by the vampire from Hotel Transylvania, after which I noticed the motorcycles seen in Ghost Rider and the
RoboCop
reboot, plus the Smurfs.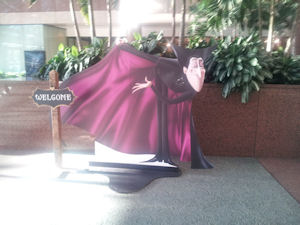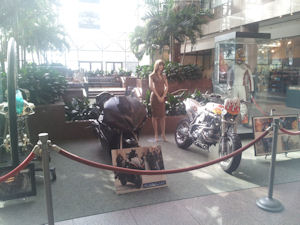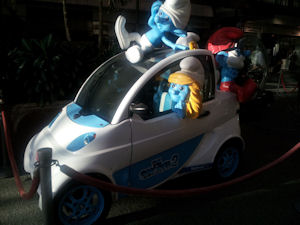 The check-in office for the tour was located right where the dining area started. There were cardboard cutouts of the
Men in Black
, a statue of
Spider-Man
, and cardboard cutouts of Walter White and Jesse Pinkman, the two main characters of the critically acclaimed television crime drama series
Breaking Bad
.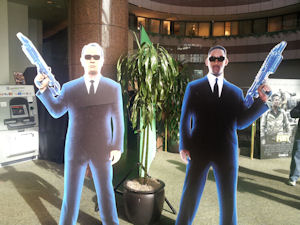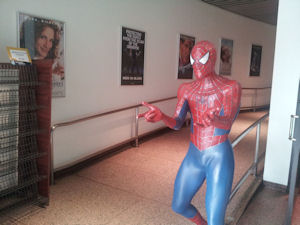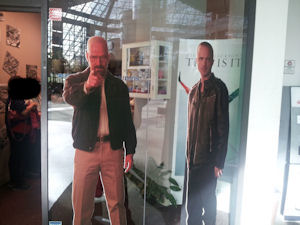 After the check-in process, the first thing that occurred was a free photo opportunity. A photographer instructed me and my family to stand in front of a green screen and smile. Normally, I wouldn't take such photos if one had to pay for them, but since it was free, I couldn't say no. So we took the photo, which ended up showing me and my family standing in front of the set of the TV game show Wheel of Fortune. That was fun.
Then the entire group proceeded down the hallway past the Spider-Man statue to sit in a small auditorium to watch an introductory film. It provided an overview of the history of Sony Pictures, including the fact that Columbia Pictures and MGM ultimately became part of the Sony family, and featured a montage of films and TV shows from the studio. This was followed by trailers for two movies: the science-fiction thriller The 5th Wave and the sports drama film
Concussion
.
First Steps on Lot
The tour group and I exited the main building and crossed Madison Avenue to the studio lot itself. We walked through what appeared to be an ordinary park, not too different from your local city park. The tour guide explained that this otherwise unexciting spot has served as a set for a couple of movies. I don't remember what movies were cited, but I do remember being fascinated by the fact that any spot, even something as nondescript as a park area, can potentially be shown in big Hollywood productions. The tour guide also explained that using this park to recreate another real-life location, like New York, requires attention to detail, even down to the types of plants that are present. It just goes to show how high the bar is for a Hollywood film.
The next stop was the Columbia Pictures Building, which also serves as a main administration building. Basically, it's another place where staff who are not directly involved in on-camera or off-camera movie production can nevertheless be an important part of Sony Pictures. While I do have a picture of the building (shown below), we were not allowed to take pictures of the lobby that the tour guide took us into. I will, however, tell you the main feature of the lobby: glass cases containing Best Picture Oscars for various films, including
The Bridge on the River Kwai
, Kramer vs. Kramer, Gandhi, and Amadeus, just to name a few.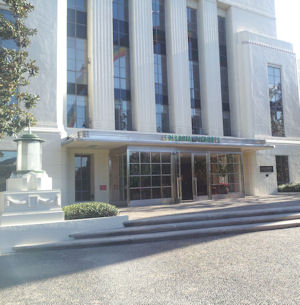 We walked back outside and proceeded along a path that ran alongside buildings. On the lot, this path is appropriately called Main Street. Along the way, we saw a giant steel rainbow. If I can recall, I don't think the purpose of it was necessarily to pay tribute to
The Wizard of Oz
. Still, I'm sure it was a thought that came to mind for just about everyone in the tour group.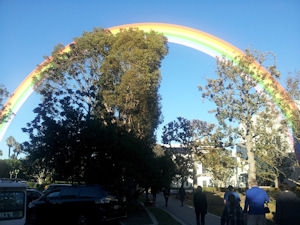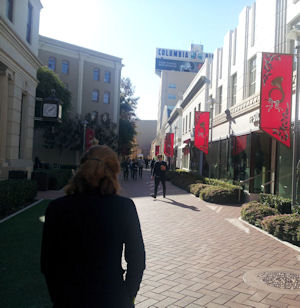 Famous Vehicles
Soon, we came to an area where a few recognizable vehicles from movies and television shows were on display. For example, there was the race car from
Talladega Nights: The Ballad of Ricky Bobby
and a funny-looking football helmet-like vehicle from 21 Jump Street (the comedy film, not the original 1980s TV show).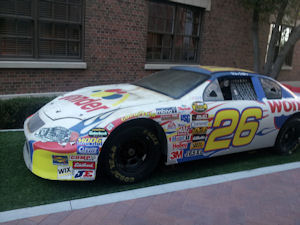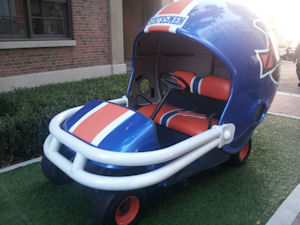 Down the line was a vehicle that many people, including me, were excited to see: the RV featured on the show Breaking Bad. It even had bullet holes in the door as a result of a violent encounter with meth buyers in the show's opening. So yes, it's the same one seen on the show, not a replica. In a joking manner, I did ask the tour guide if Walter White's meth lab was still inside. The answer was no. He did, however, open a small panel on the side of the RV so that we could peek into the RV's empty interior. The tour guide explained that this allowed cameras to capture shots of Walter White and Jesse Pinkman's feet in scenes where they're cooking crystal meth in the RV meth lab.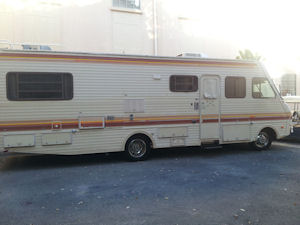 I save the best for last. The Ecto-1 from
Ghostbusters
was on display. Again, it's not a replica. It's the same vehicle used in the movie. In fact, the vehicle is STILL operational. Pretty cool. (Note: I could not get a good photo of the Ecto-1 without the tour guide sitting on it, so just accept the fact that I blacked out the person on the hood, then pretend you're seeing a ghost sitting on the car.)
Buildings of Interest, Plus ADR
The next part of the tour involved walking by more buildings. On the way, I noticed one with the logo for Happy Madison Productions, which you may recognize in association with Adam Sandler comedy movies. There was also a building called the Hepburn Building, named after legendary actress Katharine Hepburn. And you know what's really interesting? Not too far away, I saw a small sign that identified a parking spot as a reserved parking spot for actor Bryan Cranston, who played Walter White on Breaking Bad. (Hey, it's a great show. How can I NOT mention it?)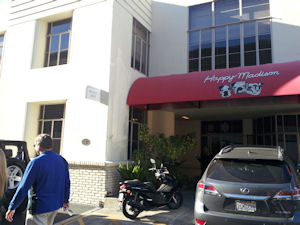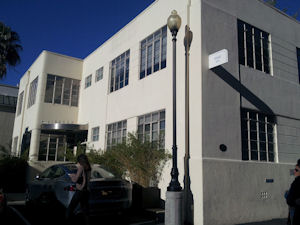 Another site of interest was a recording studio on the Sony Pictures lot, which is identifiable by a large red musical note, pictured below. It's where a lot of movie soundtracks have been made and where plenty of film score composers have worked. One composer who has worked in it and has always loved it: John Williams, the man behind the music for
Jaws
,
Star Wars
,
Indiana Jones
, and many more movies. Another person of interest who has worked in that recording studio: Barbra Streisand. As you may expect, all of us nodded with fascination, having learned about famous people connected to what we've seen.
Speaking of recording, the tour guide also took us into an audio recording room. Now, this is where photography was not allowed, so I don't have a picture to accompany this description. Still, just imagine this: a large spacious room with couches along the walls, document and microphone stands in the center of the room, and other equipment nearby. The tour guide explained the concept of automated dialogue replacement, or ADR. It's the process of recording one's voice while having it synched with a character's moving lips on screen. Obviously, this is done for animated films, but that's not all. It's also done for action films.
No kidding. Apparently, when you hear dialogue in an action scene, it's not the voice of the actors screaming their lines during the action. It's the actors recording their lines in a recording studio, matching their words with their lip movements filmed during the action scenes. The reason is simple: the noise of the action naturally drowns out any dialogue the actors attempt. (Apologizes for spoiling this for action movie fans.)
And here's one more surprising fact. When you hear kissing sounds during a kissing scene, the sounds aren't necessarily coming from the actors on screen. It may be coming from a person kissing his or her own hand and having that sound effect edited into the scene. So the next time you hear smooching during a kissing scene, remember that the sound might have actually came from an old man kissing his hand. (Apologies for spoiling this for romance movie fans.)
On the Set of The Goldbergs
The second half of the tour took us alongside various soundstages, including Stages 23 and 24 pictured below. And before you ask... yes, we did go inside a soundstage. However, this was another part of the tour that forbade tourist photography. Hence, use your imagination as I describe what I saw.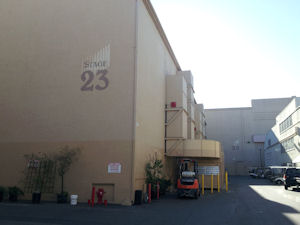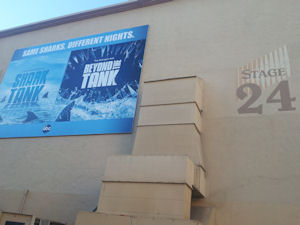 We entered a soundstage that served as the set for The Goldbergs, a television comedy that airs in America on ABC. This show, which premiered in 2013, is about a family living in the 1980s. I myself am not familiar with the show, so I was not one of those people who were ecstatic about being on the set of a favorite television show. However, I still appreciated the experience because it was the first time in my life that I had set foot on a soundstage and learned about how filming on such a set works.
I liked the whole setup that consisted of the exterior of a house and the rooms within, like the kitchen, bathroom, and bedrooms. While it looks like a real house on the TV show, it isn't. For one thing, some of the rooms were bigger than expected, as if we had walked into a high-end home rather than an average middle-class house. The reason is that there has to be space available for the film crew to do their work while still providing space for the actors to pretend to be in a normal-sized room. Also, for that same reason, many of the rooms only had three walls. It was rather funny to exit a room just by walking off the set rather than through a doorway.
Another interesting tidbit while we were in the faux kitchen: there is no running water anywhere. Any scene that involves a character using the sink requires the crew to bring in a water pump to hook up to the fake sink. This also means that you should NOT use the fake toilet in the fake bathroom. Oh, and when it comes to scenes where characters are eating, the actors are not actually swallowing any food. They chew it during a take, then spit it out once the shot is captured. This prevents actors from stuffing themselves in case the scene requires multiple takes. Knowing this, I feel bad for the people who are paid to discard the chewed-up food after shooting.
The last thing I'll say about the soundstage regards the attention to detail. I began to understand how much work really goes into designing a set. Even little things like the comic books that are scattered in a bedroom or the room's color scheme require much thought and careful decision-making. And with the sophisticated equipment and production steps involved, it's no wonder that making a television show or movie at Hollywood standards is expensive to begin with.
This Is Jeopardy!
If the name Merv Griffin rings a bell, it should. One of his most famous creations, if not his most famous, is the television answer-question trivia game show Jeopardy. Many people across America, fans or not, are familiar with this game show that has aired on most nights of the week and has been hosted by Alex Trebek since 1984. Of course, if you're not in the United States, you may still know this game show, because versions of it have appeared in over 20 countries around the world. If you love Jeopardy or any of its international versions, you'll definitely want to check out the soundstage for this show on the Sony Pictures lot, by signing up for the Sony tour, putting in a request to be part of the show's studio audience, or even trying out to become a Jeopardy contestant yourself.
The lobby of the Jeopardy studio has some interesting things to see, like pictures of notable contestants in a hallway. But the real cool part is that the room has three old contestant podiums, which are set up so that you can stand behind one of them and have your family or friends take a picture of you winning money on Jeopardy. After that, we were escorted into the studio itself. This was where photography wasn't allowed, so I have no visual aid for that. But I still thought it was nice that the show was not taping the day I took the tour, because that allowed all of us to sit in the studio audience seats and admire the game show stage with our own eyes. Yes, it's true that the lights were off and the video board for the game's categories and answers was covered with a drape, but that didn't change the fact that I was excited to be sitting on the set of a show that's been an American tradition for decades.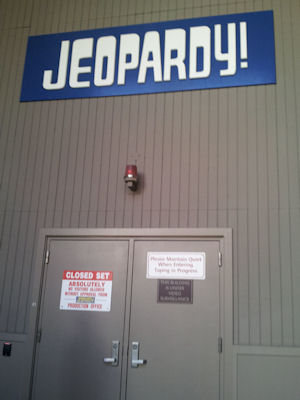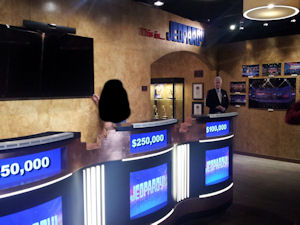 Wheel... of... FORTUNE!
Speaking of long-time American traditions, Merv Griffin also created Wheel of Fortune, the other big game show he's known for. And like Jeopardy, numerous versions of Wheel of Fortune have been made around the world (60 countries, according to Wikipedia). No matter where you are, you are likely to be familiar with some kind of show involving a big spinning wheel, a word puzzle, huge prizes, and a good-looking host and hostess. (I base the last item on my opinion that Pat Sajak and Vanna White, the long-time host and hostess of the show in America, still look great for their ages.)
The Wheel of Fortune lobby at Sony is like the Jeopardy lobby, with neat items to take pictures of and a hallway with photos commemorating notable moments and people in the show's history. And the studio we sat in was dark because no taping occurred that day, and the big wheel was covered up. That was when the tour guide pointed out that the wheel was still the same wheel used since the show originally went on the air in 1975. So the next time you watch the American version of Wheel of Fortune, remember that the wheel the contestants are spinning is over 40 years old!
One last tidbit of interest: in all of her years gracing the Wheel of Fortune stage, Vanna White never wore the same dress twice. When you consider the number of episodes per week and the number of years the show has been going on, it would be impossible for Vanna to keep all of those dresses. So you know what she does with them? She donates them. Good for her, and good for all the women who get to wear the same dresses that Vanna wore once.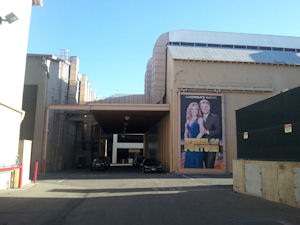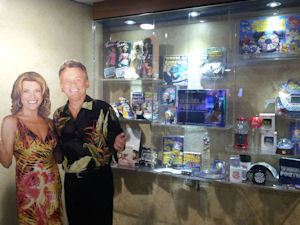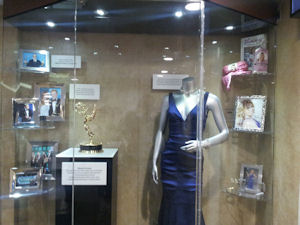 End of Tour
After seeing so many cool things, the tour came to an end. The tour guide did take us to one more spot: Sony's Studio Store. He gave us several minutes to buy anything if we wanted to. Yeah, anyone can come in to buy stuff, though Sony employees get a discount. I didn't purchase anything, but I still enjoyed browsing the store and seeing the merchandise available, including DVD and Blu-ray discs of various movies and TV shows from Sony. Afterwards, I stepped outside to take a picture of movie and TV show posters as well as a display of props from Breaking Bad. (I can't get enough of that show, so sue me.)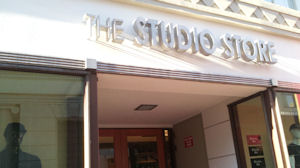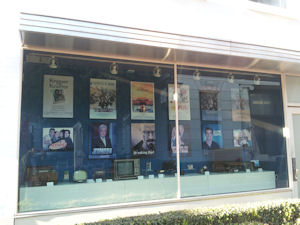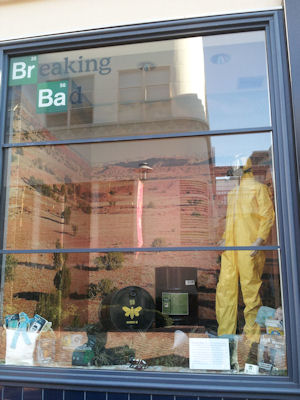 Overall, the tour was about 90 minutes long, but in that time, I got to see so much. It was definitely worth the money I paid, which was actually not too much when you consider that you can spend just half a day at Sony and still be able to do something else afterwards. As I drove out of the parking garage under the Sony Pictures Plaza, I smiled. No longer am I someone who admires movies only from the consumer end. For the first time in my life, I have seen movie magic up close.
Thanks for reading. If you're interested, my next commentary article will be a recollection of my tour of the Warner Bros. studios, something that I had done not too long after the Sony Pictures tour. Yeah, I was THAT inspired.